As some of you know I am a textile artist and I love being just that.  A very creative textile stirrer, they call me. I do artist stirring of like minded people to be creative and go with the flow. I love being with people who like me think out of the square. I love creating anything from materials such as fabric to garden hoses, old onion bags to hand spun yarns, paper bags and rubber bands. From flowers and bamboo leaves to spider web and banana trunks. I love working with colours. I love creating patterns and making travel journals. I love beach combing collecting washed up sticks, shells and beans then string it together and hang the stuff in the almighty Beach Almond tree while soaking up the colours of the sunset crashing with the white sand and the turquoise water.
I am in my right space and element when you let me loose with 2,000 cow horns to place on the ground. I am in Heaven. I never spend much time sketching what I want to create. I get straight to work and that goes for anything from dressmaking, knitting, embroidery, felt making, spinning, weaving on old door frames to crochet and cow horn layout. It is not every day that I get the opportunity to make a cow horn Mandala. So when it happens I grab the chance with great pleasure and enthusiasm. To lay out this particular sort of cow horn Mandala you need a fair bit of space. It is not designed to be made in small units or in the new and modern boring suburbia with not much space not even for a veggie garden. Which is not quite true as I made a garden one year spanning 34m² to prove that it is possible to feed a family of four people in a small space. I was very successful and produced heaps of nutritious food. This is a different story and you will have to wait quite a while to read this interesting article. It will be featured in a book called: "A Magic Time in the Garden". I am writing this book at the moment so watch out for the book launch. Don't miss it. It will be a one off event!
I belong to the Biodynamic agriculture organisation in Far North Queensland called BDFNQ. We have an awesome web page – you can have a look what it is all about at www.biodynamicsfnq.org.au.
Once a year members of BDFNQ, friends and families get together to fill cow horns with cow manure. Once the horns are filled we bury them in a small pit. The horns are buried for approximately five months before we lift them and the cow manure has now fermented and turned into what we call Cow Horn BD Preparation 500. I would like to snatch this great opportunity to say thanks to the Collins family for letting me roam their property in Kaban creating my Mandala disturbing the wildlife and picking Mulberries at the same time.
Some years I get the honour of laying out the horns early morning before everybody arrives. With a couple of helping hands I lay out the horns which have been soaked in water containing Cow Horn BD Preparation 500 overnight. This year (2018) the horns were put out in a big circle with all the horns spiralling anticlockwise and pointing inwards. The circle is representing Mother Earth our home. The reason that the horns are pointing inwards and pointing to the centre of Mother Earth is that she is in an enormous need of protection so her energy spirals in and not out at the moment. She needs looking after. Our Mother Earth is suffering from industrialization of our food system, monoculture, applications of chemical pesticides, chemical fertiliser, having to deal with genetically engineered seeds which are genes taken from other species (such as animals or viruses) and inserting them into the DNA of a different species (such as a tomato or corn plant), which transfer certain characteristics or traits to the recipient crop. Scary that is!  It is called GMO food. Say no to that, dear readers. Mother Earth is losing many of her seeds by the minute and it is very important that we look at organic farming, permaculture, biodynamic farming and indigenous growing methods from around the world to make the necessary changes so Mother Earth can survive and provide for us humans as she has done for donkey years. Instead of monoculture we need biodiversity in our food crop. This is the best way for Mother Earth to protect her children from pests and diseases and the pressure of climate changes.  Seeds are the source of life and soil is the womb from which it springs.
It was a great feeling to be emerged in the energy of the pre soaked horns. It was a soothing energy and the birds were calling out adding their opinion and sending love to the horns and their Mother Earth. I felt tremendously calm and had a good look at the horns and their patterns. By counting the rings on a cow horn you can work out how many calves the cow gave birth to over the years. Great fun and when you look into the cow horn you can see the spiral it forms. It is very tempting for me to do a visualisation moving into the horn itself and have a conversation with the cow's digestive system which is quite different from the human's digestive system. I did this one year and I was swallowed by the cow horn spirit. She took me to her inner sacred sanctuary and showed me the most incredible landscape of corn fields. The colours beaming at me were so unique and never seen before. She fed me elixir that expanded my understanding and the food was delicious. I was so cosy inside the cow horn listening to the dreamtime story of her ancestors. I could have stayed forever. Nobody knew that I had gone into the cow horn and nobody missed me. People started to fill the horns with cow manure and somebody grabbed the horn I was sitting in and this is when the confusion started to spread. I got covered in manure and my face turned green, my respiration became difficult but I manage to call out before my lungs got cluttered. The people stuffing the horns hear this calling from deep within and they thought it was the Great Cow Horn Spirit herself bringing a message. I was swimming in manure keeping my mind focused on the light at the end of the cow horn tunnel.  What a surprise and you should have seen their faces when I finally managed to crawl out of the horn. It was like re-birth and I could breathe in and out normally again. Everyone was taken aback me too and it was nice to be back with my friends. That morning we laughed a lot.
Sometimes I hold the opening of the horn to my ear and I can hear the cow chew the cud. Just like you do on the beach with different shells. Hold them to your ear and you can hear the waves clashing onto the beach making small pebbles roll and roll around. I take time laying out the installation reflecting on the brilliant world of Biodynamic agriculture. Belonging to this gorgeous group of like minded people BDFNQ makes me feel very privileged. Taking time to perform such a ritual as laying out the horns in a certain symbol infuses you with the energy of that particular symbol. It connects you with the core of life.
The spiral figure has been used for thousands of years in many different parts of the world. It is a symbol of change, progression and development and we see the change in the cow manure turning into BD preparation 500 as it is fermenting. The cow manure progresses in the spiral of the horns in the ground. Spirals represent the life cycle, fertility, childbirth and rebirth; it is a symbol of the Mother Goddess.  It is about intuition. It is a symbol of the universe. The stars above us spin around a central point and we live within a spiral galaxy. Spirals represent the cosmic forces, the Sun, the cycles of time the changing seasons and it also represent our spiritual journey. The spiral helps our consciousness to accept the turning and changes of life as it evolves from chaos to order to chaos to order and so forth. Think of the spirals formed during a cyclone.
The circle/spiral is also a Mandala. Mandala is a Sanskrit word meaning "Circle" It is of spiritual and ritual significance and Mandala helps us focus. It establishes a sacred space and is a great place for meditation and getting into a trance. The cow horns are ruled by Venus and the Moon so as we sit and stuff the horns with cow manure from lactating cows we become enveloped by the energies from these particular planets.
The energy of Venus is all about harmony, beauty and balance. It is about our feelings and affections, our urge to sympathize and unite with others. And we do it all day long. It is our desire for pleasure, sensuality, personal possessions, comfort and ease. Venus rules the throat, kidneys, thymus gland, sense of touch and the ovaries.  Venus is the ruling planet of Taurus and Libra and is exalted in Pisces. It orbits the Sun in 225 days spending about 18.75 days in each zodiac sign. Venus is an inner planet. Venus rules BD Preparation Yarrow 502. Venus plants bring joy, beauty, artistry, sensitivity and compassion. If you want to learn about all these wonderful BD preparations you better come to the next field day and satisfy your curiosity.
Venus rules plants such as: Alfalfa which you can sprout yourself. Apple blossom which the bees love just as much as I do. Every time I see apple blossom I am reminded about my Grandmother my great and wonderful Mentor and the time I spent sitting up high in her apple trees when I was a kid. Bachelor's Buttons hi folks the Mareeba Seed Savers and Garden group have got lots of these seeds. Find out when and where they get together rock up and take home some seeds. Venus also rules Buckwheat which is a part of my green winter crop, Elderflowers which are great for herbal infusion but stinks like cat piss but taste nice.  I will just mention one more and this is Hyacinth one of my treasured flower memory of my Grandmother. Instead of keeping linen in her cupboard she had hundreds of Hyacinth bulbs stored over winter.
Venus rules pink stones. They are receptive, packed with loving vibrations. They are calming, soothing and are used to relax the physical body as well as the mind. Pink stones promote peace, happiness, joy and laughter. Venus also rules green stones which are receptive. It is all about nature, fertility, life healing. Strengthen the eyes, control of the kidneys, relieve stomach problems and prevent migraines. Wear these stones in the garden to promote luxuriant growth, or place in the earth for this purpose. Or even on your garden altar if you have one. They increase fertility and are therefore used to promote conception. They are the Earth element excellent for grounding and balancing and especially great to use to attune to the Mother Earth.
The energy of the Moon is all about our emotions, unconscious habits, rhythms, memories and moods. It is The Mother, maternal instincts, the urge to nurture.  Moon is about our home, our need for security, the past and early experiences and childhood. The Moon rules the stomach, digestive system, female organs and the lymphatic system. Moon is the ruling planet of Cancer and is exalted in Taurus. The Moon orbits the Earth in 27.32 days spending 2.33 days in each sign of the zodiac. The Moon is an inner planet. The Moon rules Silica BD Preparation 501 together with the Sun. Moon plants affect our subconscious mind and aid in the development of intuition.
Moon rules plants such as Aloe Vera which is a must grow in any garden or pot. It is so useful and at the moment I am drinking it every day to sooth my intestine system. Lemon Balm and Coconut and there is nothing more healthy than coconut. A glass a day makes you a happy vegemite. Moon also rules Passion flower which is so pretty that you wished you were one yourself.  Not to talk about Green Pea and I ate so many of them when I was a kid that I had tummy pain for hours and great wind to knock any intruding monster on its head.
The Moon rules white stones. They are receptive and promote sleep and psychic power. They are used for protection after dark. Because white contain all colours, these stones can be magically charged to act as substitutes for stones of any colour.
My layouts are always very symbolic and this year I placed all the nine planets at the same distance from Earth. I piled 9 heaps of cow horn around the Mother Earth circle representing the planets.  A great masterpiece if you ask me. Our three inner planets are the Moon, Mercury and Venus. Our three outer planets are Mars, Jupiter and Saturn. Our three far outer planets are Uranus, Neptune and Pluto. I connected the planets to Mother Earth with a core of cow horns to symbolise our connection and the influence of the planets on our life on Earth. The core of the cow horn also represents our DNA system. I decorated each pile with a bunch of Casuarina which we also use for making our BD Preparations 508. On top of each bunch of Casuarina I placed a red heart representing our love for Mother Earth and our love for growing healthy food coming from our heart working with unconditional love. The red colour also represents our blood.
One year we had a campfire going early morning so I made the fire the centre for the mandala and laid out the cow horns in circles spiralling outwards and upwards. We piled 30 horns in each heap so that they were easy to count and we ended up counting 2240 horns to fill. What a great number! I was asked why I had chosen the number 30 and said it was just handy but if you look into numerology 3+0 = 3 you will find that 3 is a sacred number and very powerful indeed.
In between the horn piles we laid out 13 bunches of leaves mainly the leaves of Casuarina. The 13 bunches representing the 13 Full Moons we were having that year. I will just take you back to the drawing board and numerology 1+3= 4. The basic form of most Hindu and Buddhist Mandala is a square with four gates one for each directions with circles in the middle.  So our 13 (1+3=4) Full Moons this year represents each a direction. Our cow horn Mandala had heaps of gates designed for easy access to get cow manure to the people working in the mandala filling horns and to pick up and transport the horns to the pit where they were to be buried.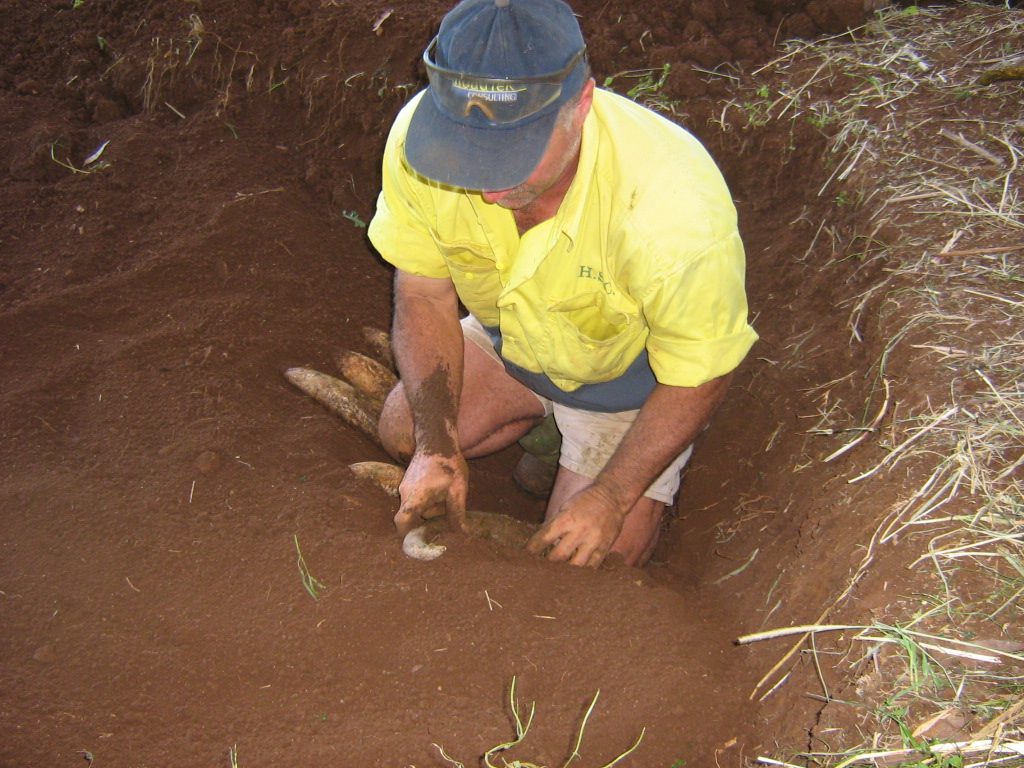 In this particular layout Mars is represented in the centre of our mandala where we have our campfire. Mars is the ruling planet of Aries and Scorpio and is exalted in Capricorn. Mars is all about confidence, self-assertion, aggression, sexuality, energy, strength, ambitions and impulsiveness. Mars is passionate impulse and action, the masculine aspect, and it goes beyond sex into your drive, discipline, will power and stamina. Mars orbits the Sun in 687 days spending about 57.25 days in each sign of the zodiac. Mars is an outer planet. Mars rules Stinging Nettle BD preparation 504. Mars plants give energy that promote independence and assertiveness and stimulate our passion. Mars plants can be used for protection and to promote motivation. Mars rules our muscles, head, adrenal glands, senses of smell and taste.
Mars rules plants such as Allspice, Chilli Pepper, Ginger, Horseradish all hot and lovely to use in your daily cooking with gentle measure so not to kill the taste of the food your are making. Mars also rules Garlic and I just love garlic and I use it as natural antibiotic if I can feel a flue coming on or any lurking inflammation waiting for an opportunity to break out. Mars rules red stones and these stones are projective. It is the colour of blood, of birth and death. It is the element of Fire and aggressive energies.
One year the layout was one huge spiral. It was awesome too.